THE LC SERIES
PUREBRED POWER.
CRAFTED TO THRILL.
Introducing the LC series: a seductive four-seat coupe powered by a 5.0-liter V8, with a 3.5-liter V6 hybrid option. Provocative and expressive, the LC vehicles set a bold direction for greatness to come.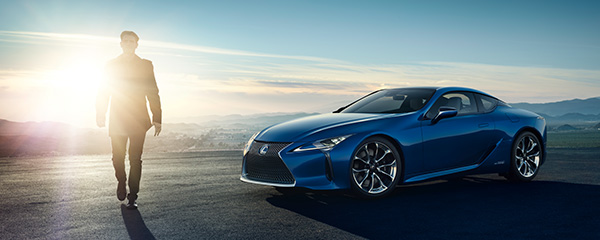 The LC SERIES
THE FLAGSHIP COUPE. COMING SOON IN 2017.
The LC 500 is powered by a 467-horsepower V8 engine, going from 0-100 km/h in 4.5 seconds.
The LC 500h is equipped with the Lexus Multi-stage Hybrid System, providing more performance and greater efficiency.
Athletically shaped with an alluring low stance, the LC 500 is where beauty meets power.

Feel even more of the action with race-ready seats, engineered to be as close as possible to the vehicle's center of gravity.  
LEXUS LC 500: WORLD PREMIERE

Watch the official world premiere of the LC 500 2+2 performance coupe.

LEXUS LC 500h: WORLD PREMIERE

LC 500h introduces the world's first Multi-stage Hybrid System, designed specifically for performance vehicles.

TOP MARKS FROM TOP GEAR

The journalists at Top Gear are truly excited about the LC 500, from its good looks to its performance capabilities.

A NEW SHADE: STRUCTURAL BLUE

Inspired by the morpho butterfly, a new shade of blue that harnesses the physics of light at the nano scale is born. Structural Blue emphasizes the dynamic design and unique appearance of the new Lexus LC.
REVIEW

LC 500

"Provocatively angled sheet metal and a massively meshed grille hint at a serious performance car, and in that regard, the LC delivers."

— Caranddriver.com
LEXUS LC 500
X.X

SECONDS
0 - 100 KM/H

XXX

KM/H
MAX SPEED

XXX

BRAKE
HORSEPOWER

X.X

SECONDS
0 - 100 KM/H

XXX

KM/H
MAX SPEED

XXX

BRAKE
HORSEPOWER